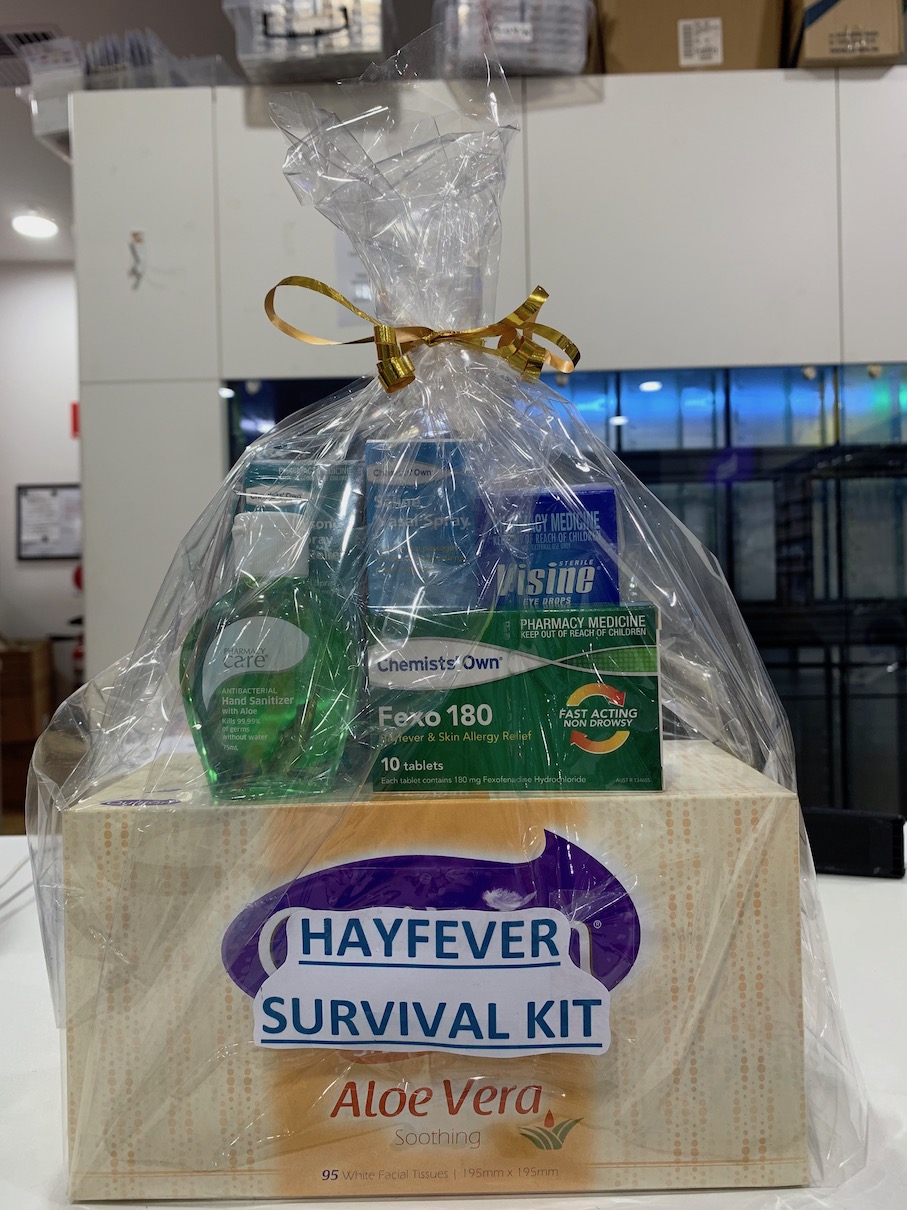 Share & Win Hay Fever Survival Kit!
Hay fever is increasingly common and now affects about one in four of the population. Over-the-counter antihistamines are fine for those with mild symptoms, but sedating antihistamines can impair driving and cognitive function. The treatment of choice for more severe hay fever is usually an intranasal steroid spray.
Take preemptive measures
Taking hay fever medication early is key to achieving maximum effectiveness when pollen levels peak.
People with hay fever are advised to start using nasal sprays two weeks before symptoms usually begin. If you need advice on medication, speak to a Gorokan Guardian Pharmacist.
Pollen can be an allergic trigger for those with asthma. Managing hay fever symptoms is an important part of keeping asthma under control.
Check the pollen count
It is useful to know that the pollen season We, pharmacists from Gorokan Guardian recommend wearing wraparound sunglasses when outside, and putting petroleum jelly around the nostrils to trap pollen.
Avoid bringing pollen into the house
Pollen can be carried into your home on clothing or by pets. It is advisable to change your clothes and even have a shower when you come in from outdoors. We recommend not drying clothes outside and keeping windows closed when pollen counts are high, especially in early morning and evenings when levels of pollen in the air are highest. We also recommend not cutting grass, or walking on cut grass, and avoiding keeping fresh flowers in the house.
Try to reduce stress
Studies have shown that stress can exacerbate allergies. Stress can make the allergic response worse. We don't know why exactly, but we think stress hormones can ramp up the already exaggerated immune-system response to allergens. Meditation, exercise and eating healthily are all recognised ways of trying to reduce stress.
Please see your friendly pharmacists at Gorokan Guardian Pharmacy for more information.
This month we are running a competition. Our lucky winner will receive a hamper of hay fever survival kit. 
Please like and share this post to be in the competition.
Facebook
https://www.facebook.com/gorokanpharmacy/posts/2365785840137810
Instagram
https://www.instagram.com/p/B3DXmeqBb_l/?utm_source=ig_web_copy_link